Kate'Lynn Turns Three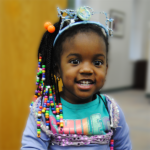 Kate'Lynn recently turned three – and she made sure everyone knew it!  The day started with a rambunctious Kate'Lynn running through the halls, singing, "I'm the birthday girl!  It's my birthday!"  The celebration continued that evening with her Shimmer & Shine themed birthday party hosted by The Haven's longtime partners Sweet Celebrations.  The talkative birthday girl narrated the events with the unique joy of a brand new three-year-old.
Healthy birthdays are always a milestone to be celebrated, but it was the way Kate'Lynn celebrated herself that was particularly noteworthy.  Studies show that an average middle class three year old has a working vocabulary of 1,200 words, while a poverty class adult has only 900.  By this measure, Kate'Lynn is more than on track to break out of the cycle of poverty.  Her vocabulary is 1,200 words and climbing – something anyone who meets her can attest to!   
Kate'Lynn moved into The Haven's shelter program with her mom when she was 18 months old.  Shortly after, her little sister Ka'Morie was born.  In the year and half since, Kate'Lynn has benefited from a stable home, good health care, nutritious meals and the hard work of her mom, Bree.  Bree has participated in parenting classes and early childhood literacy coaching that have helped her raise Kate'Lynn into the strong, confident, talkative three-year-old that she is today.
See more of Bree's story by visiting the In Her Words feature. 
We are so grateful for healthy and growing Haven kiddos like Kate'Lynn!  Visit our Giving page to see how you can help Kate'Lynn (and others like her) reach their full potential.