Breeyana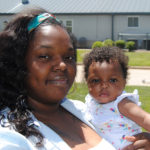 My Name is Breeyana and I have been at The Haven of Grace since October 2016. I have had my fair share of struggles and I am so grateful that I found help at The Haven.
My mother was an addict and I was raised by my sister and grandmother. My grandmother passed away when I was thirteen years old, so my sister, who was twenty-three, was left to raise me. Although it was rough, she did the best she could with what she had. I graduated high school in 2011, and enrolled at STLCC Florissant Valley where I majored in Psychology. After one semester, I decided that I wanted to work so I left school and started working at Wal-Mart. After working at Wal-Mart for three years I go pregnant with Kate'Lynn. Kate'Lynn had some complications at birth so I was unable to return to work for a while. When I was able to return to work, I worked at Express Scripts where I was able to obtain my Pharmacy Tech License. After a year of employment, I became pregnant again and suffered from extreme morning sickness. I was dismissed from work because of poor attendance.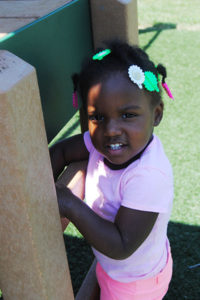 I learned about The Haven of Grace from a family member who had previously lived there. I decided to come to The Haven because I was living with my boyfriend in a very unstable relationship. I needed to get my daughter and unborn child away from that situation. Since being at The Haven I have learned so much. One of the most important things I learned is that it is okay to ask for help when you need it. Being at The Haven has shown me that there are people who actually care about you even if they don't know you. I was able to move from a horrible living situation into a loving family environment. My goal is to complete the transitional living program and find stable housing for my family. After I attain that goal I plan to return to school for Respiratory Therapy, and would like for my children to enroll in private school.
The Haven of Grace has been such a blessing to my family. I am forever thankful that when I didn't have a home they welcomed me with open arms. For this I say, "Thank You".
Breeyana, Kate'Lynn & Ka'Morie
October 2017