Tuncia makes an "About-face"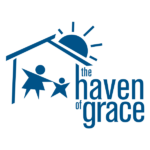 An about-face has many meanings; it is mostly used as a military term associated with soldiers turning themselves completely around, using only their legs in a precise way. It can also mean that someone has made significant changes to their life. Tunica has attacked her situation and completely turned her life around by taking full advantage of every opportunity since she has entered The Haven of Grace. In a short period, she has gone from pregnant and homeless to living independently and having a full time job with a bright future.
When Tuncia entered the Haven of Grace, she was young, scared, confused, and didn't know how she was going to face the dreadful reality of now being homeless and pregnant with her first child.
She quickly realized she needed to make some drastic changes. With the help of The Haven staff she planned to change her life. Since her first day at The Haven of Grace Tuncia has attended all The Haven's educational classes, she is meeting regularly with her therapist and has gained many new life skills that she is now incorporating into her journey to self-sufficiency.
Tuncia is currently working in housekeeping at one of the biggest hospitals in Missouri. She has persevered through many challenges and has now been employed for over 90 days. Tuncia's focus now is to be a good mother to her daughter and to use all her new skills to provide a bright future for her family.