Tempestt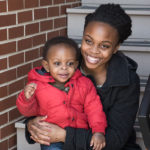 My name is Tempestt and I have been at the Haven of Grace for one and a half years now. Coming to this shelter for pregnant women was the best decision I could have made.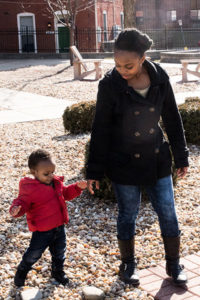 I made a list of pros and cons of moving into the shelter, or getting a smaller apartment and having my sister help me pay rent. I prayed over my decision and moved into The Haven of Grace the following week, two weeks before having my son. I was a mess! Living in a shelter took some getting used to, as nice as it was. This was just not how I envisioned my life. After a few pillow soaked nights I began to open my eyes to the blessing the Lord gave to me. I lifted my head, did my chores, went to work, and stayed focused. The staff, house parents, and other mothers-to-be became my second family.
I had Noah in August 2015 and was back to work in September 2015. Now I had these little brown eyes looking up at me. He was depending on me for all his needs and desires. I was getting steady hours at work and made the choice to move into the transitional housing at The Haven of Grace. Now Noah and I each have our own space. I knew I could not live there forever and knowing the type of life I am going to live, it was time to make a change. I enrolled at Forest Park Community College to begin taking the prerequisites needed for nursing school. With the Lord on my side, dedication and a few family members, I completed my first semester of school – after a six year break – with a 3.5 grade point average and I plan to graduate egregia cum laude which means with outstanding honor.
My goal is to become a registered nurse and work at DePaul Hospital; the same hospital where Noah was born. I will be a caring, understanding, diligent and memorable nurse, all while being the best mother to Noah. I am grateful that organizations like The Haven of Grace exist. The Haven of Grace made me a better person. The financial literacy classes, cooking lessons, doing chores regularly, Mom's Day Out events, the Beginning Books for Babies organization all made a difference. They opened my eyes, made me aware and think about new possibilities. Thank you to all the employees at The Haven of Grace – past, present and future – and every organization that partners with them and those who donate.
Tempestt & Noah
January 2017