Taja & Kylie Move to the Quad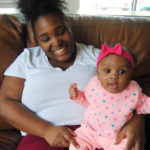 When The Haven of Grace completed construction on our Quad apartment complex to add a 2-year transitional housing program in 2008, moms like Taja are exactly who we had in mind. 
Taja arrived at The Haven in July of 2018.  She was 27 years old and 8 months pregnant with her daughter, Kylie.  Finding herself homeless was a surprise to Taja.  She had been living in her own apartment for over 3 years, but the rent payment left her living paycheck-to-paycheck and unable to build up an emergency fund.  She lost her job and quickly realized she wouldn't be able to pay her rent.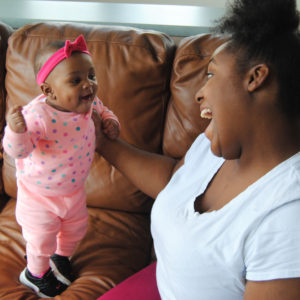 At that point, Taja was only a month away from giving birth to her daughter.  She wanted to find a place quickly so she could settle in before bringing Kylie home.  She reached out to The Haven of Grace and moved into our Shelter.
Taja took full advantage of the Shelter program – she participated in case management, completed classes, and created an Individual Goal Plan for her family.  After delivering Kylie, Taja went back to work and was ready to get back out on her own.  However, she had learned from her last housing experience that it would be helpful to build up her savings before signing another lease.
The Quad is the perfect place for her to reach that goal.  While living in her own fully-furnished Quad apartment, Taja will pay rent based on her income.  A portion of that payment will go into her savings account where it will be eligible for matching funds through The Haven's savings program.  These funds combine to provide an important foundation for her family going forward.  Living in the Quad also allows Taja to stay on The Haven's campus with easy access to her case manager and therapist as she continues to work on her short and long-term goals.
"We're so proud of Taja that she made the choice to move to the Quad," says Program Manager, Cammy Gibson.  "It's a really mature decision that shows she's thinking about what's best for her family.  Living at the Quad is going to give her the time she needs to accomplish her short-term goals, and the savings she will build up just by paying her rent is going to set her up to reach her long-term goals.  We're excited to see where this next step takes her!"
Want to know how you can support moms like Taja?  Visit our Giving page to find out how you can support our Quad program and matching savings fund.