Shaina Has Her Driver's Permit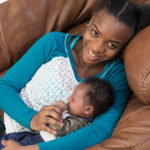 Single moms living in poverty face many barriers to reaching a goal of self-sufficiency.  One of the most common barriers is adequate transportation, and Haven mom Shaina is no exception to this struggle. 
Shaina is currently 20 years old and until recently, had never attempted to take the test to receive her driver's permit.  Without a driver's license, Shaina is limited to jobs and activities that can be reached by public transit.  She often spends over an hour on the bus with her 1 year old son, Karter.
"I am ecstatic that Shaina finally had the courage to take her permit test," says Andra Bowers, Family Advocate at The Haven.  "This is a goal she set for herself nearly six months ago, and she passed on the first try."
This is an important step towards self-sufficiency, and a big confidence booster for Shaina.  She is now learning to drive a stick shift, and is saving for her own car.  This will open many different opportunities for her and save her hundreds of hours on the bus.  Congratulations to Shaina!
Want to help Shaina work towards her goals? You can help pay for driving lessons or support our matching savings program.  Visit our Giving page to see how.