New Executive Director, Kimberly Brown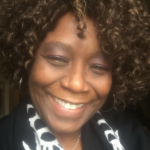 ST. LOUIS (January 1, 2018).  The Haven of Grace Board of Directors has named Kimberly Brown as the organization's new Executive Director. "We're delighted to welcome Kimberly to The Haven. Her work history and knowledge of the nonprofit world, coupled with a strong sense of dedication and enthusiasm will provide The Haven of Grace the next phase of leadership," says Board Chair, Jeanne Scannell.
Brown has a long history of helping others. For 24 years she worked with Interfaith Residence (dba Doorways) providing housing and healthcare to homeless individuals impacted by HIV/AIDS, followed by her work in leadership positions with Cardinal Ritter Senior Services and Creve Coeur Assisted Living. She is also part of a mission group that travels to Africa providing basic healthcare and education.