Makenzie Starts Preschool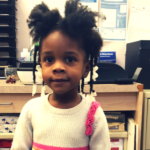 Three year old Makenzie recently started preschool, and she could not have been more excited to meet all of her new friends and learn new lessons.  Makenzie's mom, Alicia, actually had more first-day jitters than Makenzie did as she dropped off her oldest daughter at school for the first time.  It was a big day for them both!
Finding quality reliable childcare is one of the key elements for our moms on their paths to self-sufficiency.
"We are preparing our residents to be working single moms, and that means having reliable childcare and backup childcare for their work schedules," says Nicole Feltes, Director of Programs.  "We also know how important early learning is for our kiddos' growth and development and place a heavy focus on education."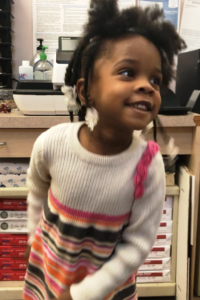 Sometimes our moms are hesitant to trust anyone else with their children, and our staff does a great job walking our moms through the process and helping them find an early learning program that fits their family's needs.
Children that attend Early Learning Programs are:
less likely to repeat a grade in school
less likely to drop out of high school
more likely to attend and graduate from college
more likely to be employed as an adult
less likely to receive public assistance as an adult
The future is bright for Makenzie!  Visit our Giving page to see how you can help Makenzie (and others like her) have every opportunity to succeed.