Kudos to Carol House!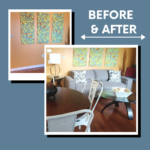 At The Haven of Grace, the moms and their little ones work through a process that involves preparation to re-enter independent housing.  Once a mom delivers, she can remain in the Maternity Center for up to one year.  During this timeframe, she bonds with her new baby and is also equipped to return to school or the workforce.
After the year is over, she has the opportunity to move to "The Quads," The Haven of Grace's Transitional Living Program.  These are fully furnished apartments that include everything from beds to pots, plans, and linens—everything a new mom needs when moving into a new apartment.
Well…enter Carol House Furniture!  In coordination and with the assistance of The Jayson Tatum Foundation, Carol House helped to furnish several units of the Haven of Grace Quad Apartments.  We would like to thank them both for working together to make this dream come true for new moms and their kiddos!  As you can see, the furnishings are beautiful and are perfect for our moms when they move in.  Kudos to Carol House and The Jayson Tatum Foundation!