Je'Kiya, Zuri & Zara Move to the Quad… And Much More!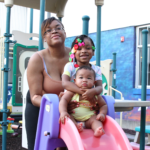 Je'Kiya arrived at The Haven of Grace in November of 2018.  At that time, she had a 2-year-old daughter named Zuri and she was pregnant with her second daughter, Zara.  They were facing homelessness and unsure what the path forward would look like.  In less than a year, Je'Kiya has accomplished so many milestones that it's hard to pick just one!
Here are a few of the many steps Je'Kiya has taken in her short time at The Haven of Grace:
November 2018 – Je'Kiya takes a brave step to move into The Haven's Maternity Shelter.  She begins meeting with our Case Manager to create her Individual Goal Plan – a plan for her path forward.  She also starts meeting with our Therapist on a regular basis to help identify and address any barriers that will keep her from accomplishing her goals.  Je'Kiya enters her third trimester shortly after arriving.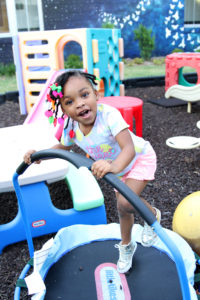 February 2019 – Je'Kiya delivers a healthy baby girl and names her Zara.  Zara comes home to mom and big sister Zuri's room at The Haven, where she meets her many "aunties" in the other residents.  Je'Kiya has developed a loving support system among the other moms and staff at The Haven, and all welcome her new baby girl with joy.
May 2019 – Je'Kiya gets accepted to UMSL.  After completing her general transfer credits at community college, Je'Kiya applied for and was accepted to the University of Missouri-St. Louis.  She begins classes in the fall semester to finish her bachelor's degree in Biochemistry and Biotechnology.  She hopes to be a clinical researcher.
June 2019 – Je'Kiya secures a new job at BJC.  She was initially offered a position with inconvenient hours, which she accepted graciously.  Her new employers were so impressed with her willingness and work ethic that they immediately found her hours that were more convenient to her schedule and allowed her more time with her daughters.
August 2019 – Je'Kiya, Zuri and Zara move into their Quad apartment.  "I see my daughters and I as baby birds," says Je'Kiya about her choice to move The Quad.  "The Quad is like our nest.  We can stay there while we grow, and by the time we leave in two years, we will be ready to fly!"  Je'Kiya and her daughters are able to stay in their Quad apartment for up to two years.  In that time, Je'Kiya plans to finish her bachelor's degree and begin her career as a clinical researcher.  At the end of two years, Zuri will be ready to start kindergarten and Zara will be an active toddler.  We can't wait to see them take flight!
The future is bright for Je'Kiya, Zuri and Zara!  Want to know how you can support moms like Je'Kiya?  Visit our Giving page to find out how your gift directly impacts our core programs.