Kim's New Job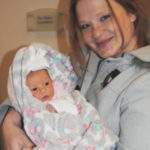 We celebrate all kinds of milestones at The Haven of Grace. First birthdays, new jobs, GED graduations, first steps, new housing, completion of community programs, potty training, buying a car, opening a savings account – there are so many things worth celebrating for our young families! We are so proud of each and every step that our mamas and babies take while they are at The Haven.
That's why it was not unusual to hear a cheer coming from the reception area of our offices earlier this week. Kim (pictured above) had returned home from a job interview, where she was offered and accepted a new job. She came home to share the great news with our staff members, who have been coaching Kim through job hunting after giving birth to her new daughter in March.
"We are so proud of Kim's progress," says Cammy Gibson, Program Manager at The Haven of Grace. "She's been with us for four months and has been working closely with our staff to figure out what the best steps forward will be for her family."
Kim will be working 20-30 hours per week at a dog day care and grooming facility. Working with animals is something Kim loves and has a special aptitude for. The Haven staff was excited to hear that she found a job that would be such a good fit, hence the cheering.
"We want our moms to know that every positive step they take is a big deal and worth celebrating," Cammy stated. "That's why we cheer or throw parties for so many things. We see other moms in similar situations give up, but our moms keep plugging along. When they take a step towards one of their goals, it's definitely worth disrupting the office with some shouting!"
Want to learn more about our programs and how they help our moms reach their employment goals? Check out our Programs page.