Karter's First Steps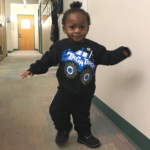 One of the great joys of working with the motivated young mothers at The Haven of Grace is getting to celebrate alongside them.  There are so many things for a new mom to rejoice in: baby's first smiles, first solid food, first words, and so many other developmental milestones.  Recently, we were able to celebrate with Haven mom Shaina when her little boy Karter (1) took his first steps in their Quad apartment at The Haven of Grace.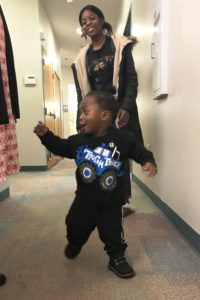 Shaina was 18 when she arrived at The Haven, pregnant and in unstable housing.  She gave birth to Karter while living in the shelter and moved into The Haven's Quad transitional apartments shortly after.  Thanks to Shaina's choices and care, Karter was born at a healthy birth weight and has hit all of his important developmental milestones.  He is a happy, healthy and walking little boy – all thanks to his mom!
"We are so excited to celebrate this important milestone with Karter and his mom Shaina," says Director of Programs, Nicole Feltes. "The Haven puts a heavy emphasis on early childhood development and reaching milestones because research shows us that 80% of the brain develops by age 3, and 90% of the brain is developed by age 5  (firstthingsfirst.org).  Gross motor skills, fine motor skills, problem solving, language development, social skills as well as healthy attachment are critical to the long term success of our babies."
Congratulations, Karter!  We can't wait to see where your steps will take you!
Want to support little ones like Karter?  Visit our Giving page to see how.