Jameka is Going to College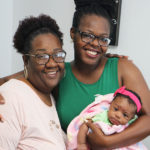 Haven mom Jameka recently gave birth to her first child, a little girl named Mekaiah.  Like any new mom, she has a lot of dreams for her new daughter.  While The Haven staff has encouraged her to dream and plan for Mekaiah, they have also reminded her that making and achieving her own dreams is an important step in setting her new daughter up for success.
One thing that Jameka has always dreamed of for herself is returning to college.  Shortly after moving into the shelter in April, she shared that dream with The Haven's Therapist, Ms. Thomethia.  Ms. Thomethia and the rest of The Haven's program staff encouraged Jameka's dream and helped her make a plan to reach it.  We are proud to report that Jameka recently took the ACT test and has been accepted to Harris Stowe University where she hopes to attend classes this fall.
"I never even thought I would be capable of taking the ACT or going back to school," Jameka recently told Ms. Thomethia.  "I am really excited about what the future holds for me and my daughter as I work to pursue my educational goals."
Jameka hopes to become a social worker, where she is sure to have an impact on many other families who deserve a helping hand.  Congrats to Jameka on this accomplishment!
The future is bright for Jameka and Mekaiah!  Visit our Giving page to see how you can help provide book stipends and scholarship money for moms like Jameka.