Christian Starts Kindergarten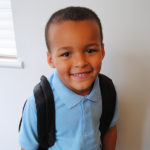 Curious.  Social.  Energetic.  Excited.  A little wiggly.  Ready to learn.  All of this describes Haven kiddo and current Quad resident Christian – and these descriptors are how we know Christian is ready to take on his first day of Kindergarten this week!
Christian arrived at The Haven two years ago with his mom, Sarah.  Sarah was pregnant with her second child at the time and had been living in a vacant house with her young son.  As she settled into our shelter program, Christian benefited from the stability of life at The Haven.  Our staff helped Sarah identify and access resources for Christian, including a Head Start program through Kingdom House.
As we watched Christian grow, we also watched him flourish.  He tackled speech therapy and learned to work through behavioral issues with his mom's help.  He gained and has maintained a reputation for being The Haven's social butterfly.  He is known for his bright smile, infectious good cheer, and stopping for a chat with each and every person he passes.
So today we take a moment to celebrate this big milestone for Christian.  We celebrate the joy he is sure to bring to his teacher, his new friends and everyone he encounters at his new school.  We celebrate his little sister Raelynn, who is watching him closely and learning from him every day.  We celebrate his mom, who worked hard with the coaching of The Haven staff to find the right school and to open a new path that includes big opportunities for him.
Good luck, Christian!  Everyone at The Haven is rooting for you!
Visit our Giving page to see how you can help Sarah and other moms like her provide the brightest futures possible for their children.