Ashlie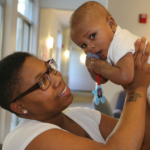 My name is Ashlie and I am 28 years old.  Before coming to The Haven of Grace, I graduated high school in 2008.  I attended Florissant Valley Community College for one and half years.  From there, I went to Vatterott College where I graduated with my Pharmacy Tech degree in 2014.  I lived on my own with my son's father and that's where the burden and struggle that lead me to The Haven of Grace began.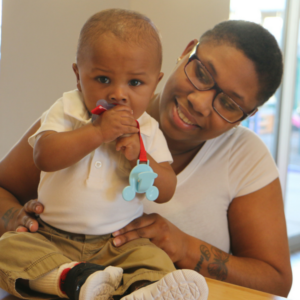 I found out I was pregnant in December 2016 and we weren't seeing eye to eye about the pregnancy.  I lost my job in March 2017.  I wasn't financially able to maintain bills on my own and didn't want to become a burden on my parents and other family.  So I decided to do what was best for myself and my unborn child.  And that was coming to The Haven of Grace.  It was the best thing I could have done.
After arriving at The Haven I maintained a job until the birth of my son Ash'Tonn who is now 6 months old.  He is my blessing baby because I was told that I could not have children.  I feel that since I've been here I have become a more independent and self-sufficient person.  I've had a chance to start a new beginning for myself and my new baby with the help and the support of the staff here at The Haven.  I've set short and long term goals that I would like to accomplish like getting my housing voucher, finding a new home for me and my son, updating my pharmacy tech license, building savings, finding a job in pharmacy, and working on improving my credit.  My long term goal is going back to school to further my pharmacy career, being sure that I stay on the right path so I won't have to be in another situation like this again.   Being at The Haven of Grace is a very good experience and learning tool!
Ashlie & Ash'Tonn
February 2018