An Interview with Robin Lloyd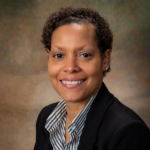 At The Haven of Grace, we've been fortunate enough to attract a hearty, wide-ranging partner base. From the philanthropist who makes a substantial donation, to the young babysitter who volunteers for college credit, we thrive in the diversity of support surrounding us. Admittedly, when all is said and done, these beautiful and altruistic individuals are a big part of why our jobs are so worthwhile.
This month, we give special thanks for our unique partnership with the Parents as Teachers organization. We recently had the privilege of interviewing Robin Lloyd, a Parents as Teachers representative, about her two years of service to The Haven.
We began the interview by asking Robin to provide readers with a bird's eye view of her organization."[Parents as Teachers] is a program where parent educators go into people's homes to talk about family and job development, and they provide educational tools to help them become better parents," answered Robin.
The organization's relationship with The Haven of Grace, however, looks a little different. With funding from the Missouri Foundation for Health, Parents as Teacher representatives have been visiting our facility twice a month since 2016 to discuss "safe sleep" and similar subjects (e.g. breast feeding, smoking prevention, and mental health practices).
These recurring discussions — or group connections, as Robin calls them — always encompass a hot meal, like Panda Express or Panera, and a $10 Walmart gift card for all Haven residents who choose to attend. Safe sleep resources, such as pacifiers and Pack 'N Plays, are also provided. The overarching theme: prepare mom and babe for lifelong success.
Naturally, it hasn't been difficult for the course to become popular among Haven residents … and it isn't just about the incentives, according to Robin. When asked about the kind of reception she's received, Robin explained that "[the ladies'] feedback is wonderful, and the interactions are always positive. Maybe sometimes they come in with a bad mood at the beginning, but by the end of the group, they're happy."
In fact, since group connections became virtual in March (for obvious reasons), the moms have often questioned Robin about when they'll be able to resume their in-person gatherings again. Fortunately, they have Robin's phone number and are able to reach out when they want some extra interaction.
After hearing a few delightful testimonials, our interview turned bittersweet as Miss Robin explained that she's transitioning into a new position with Parents as Teachers, and therefore, will no longer be working with The Haven. We're sad to see her go, of course, but we congratulate Robin for her promotion, and we wish her all the luck in the world!
Thank you, Miss Robin, for all you've done for The Haven of Grace. We have no doubt that you'll continue to change lives in your new role.
Sincerely,
Your friends at The Haven