Abstrakt Marketing Group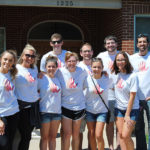 The Haven of Grace was proud to participate in Abstrakt Marketing Group's Give Back Day 2017. The St. Louis based company sent 250 employees to 19 local non-profits for a day of service. We are especially grateful to the 10 Abstrakt employees who spent the day at The Haven of Grace. They completed several projects to clean and maintain our grounds and the streets and lots directly connected to The Haven's property.
We are so grateful to Abstrakt Marketing Group!